TORO 52″ GrandStand Stand-On Commercial Lawn Mower – 74549
The TORO 52″ GrandStand model 74549 features a V-Twin Kawasaki engine with a Turbo Force Deck. Outstanding hillside stability makes the 52″ GrandStand a must have for lawn maintenance. Come demo before you buy from Sharpe's Lawn Equipment & Service in Statesville, NC.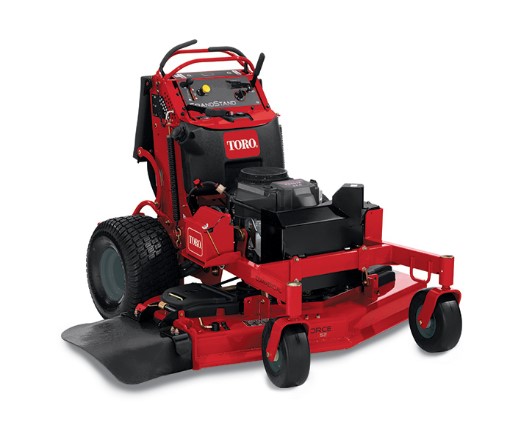 52″ GrandStand
High productivity in a compact size.
Exceptional hillside traction and handling.
Operator platform suspension reduces fatigue.
Foldable platform allows for walk-behind operation.
The 52″ GrandStand Stand-on Mower productivity offers the ability to turn easily, get in and out of tight spaces. It also allows you to quickly get on and off the mower to pick up debris or move obstacles. This all contribute to less time spent per property. The operator is better able to steer clear of obstacles, identify upcoming changes in terrain and easily pass beneath overhanging branches. This exceptional visibility of the GrandStand protects the operator, the mower and the property. The 52″ GrandStand is a must for landscape contractor companies.
Come to Sharpe's Lawn Equipment in Statesville to experience it for yourself.
Specifications – 74549
Engine – 23 HP* Kawasaki® FS 726cc
Fuel Capacity Gasoline – 7.8 gallons
Air Filter – Dual element
Blade Tip Speed – 18,500+ ft/min
Blade Type – 1/4″ (6 mm) thick heat-treated steel
Carrier Frame – 3″ x 1-1/2″ (7.6 cm x 3.8 cm) tubular steel
Caster Tires – 11″ x 4″-5″ (28 cm x 10.2 – 12.7 cm) flat-free semi-pneumatic
Cooling System – Air-Cooled
Deck Design – 7-gauge 52″ (132 cm) TURBO FORCE® with bull-nose bumper
Discharge Chute – High-performance rubber
Drive System – Hydraulic pumps and wheel motors
Drive Tires – 20″ x 10″-8″ (51 cm x 25 – 20 cm)
Ground Speed – 8.0 mph (13 km/h) forward
Height of Cut – 1″- 5″ in 1/4″ (2.5 – 12.7 cm in 6 mm) increments
Hydraulic Fluid – Premium synthetic
Spindle Bearings – Greasable ball bearings
Spindle Housing – Cast iron
Steering Controls – Twin Lever
Disclaimer – *The gross horsepower of this engine was laboratory rated by the engine manufacturer in accordance with SAE J1940. As configured to meet safety, emission, and operating requirements, the actual engine horsepower on this class of mower will be significantly lower.
(c) 2018 Sharpe's Lawn Equipment Equipment. All rights reserved. Your local Authorized Toro Dealer, Bob-Cat Mower Dealer, Stihl & Lebanon Dealer for Statesville NC. Login