TORO Diesel Zero Turn Mowers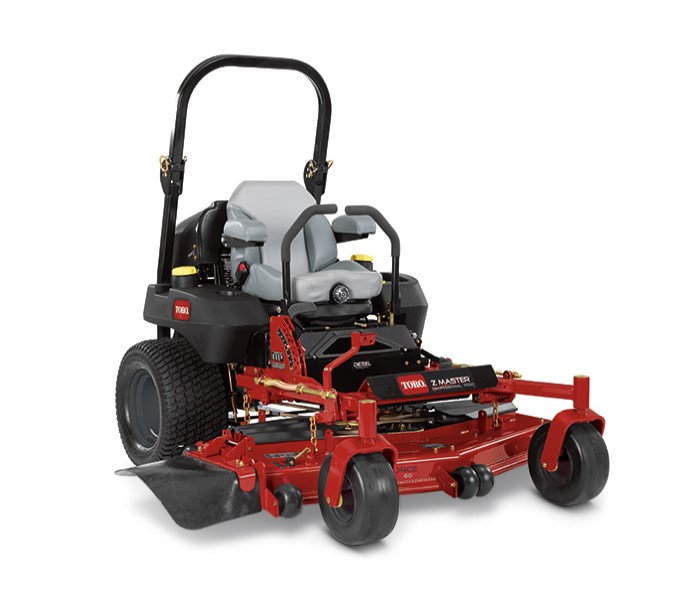 25 HP Kubota® Diesel 898cc Engine
60″ or 72″  TURBO FORCE® deck
Robust 9″ cast iron spindle housing with 1″ spindle shaft and greaseable bearings
Deluxe suspension seat features thick cushions, large bolsters and 3-D isolator mounts that absorb bumps and vibrations to reduce operator fatigue
Model 74267 – 60″ 25 HP Kubota Diesel Engine
Model 74274 – 72″ 25 HP Kubota Diesel Engine
---
Why Diesel? HIGH TORQUE AND LONGER RUN TIME
While gas powered mowers lose torque under heavy conditions, the diesel engine increases torque to lug through demanding turf and eliminate stalling.
TOUGH SPINDLE ASSEMBLIES
Toro's rugged cast-iron spindle assemblies survive impacts that would destroy lesser spindles.
A stout cast iron housing with a massive base absorbs impact loads and distributes them across a broader area of the deck shell.
COMFORTABLE RIDE
The deluxe suspension seat features thick cushions and large bolsters that absorb bumps and vibrations to reduce operator fatigue.
Specifications
Engine – 25 HP* Kubota® Diesel 898cc
Fuel Capacity – Diesel – 12 gallons
Air Filter – Heavy-Duty Canister Air Filter
Blade Tip Speed – 18,500 ft/min
Blade Type – 1/4″ thick heat-treated steel
Carrier Frame – 2″ x 2″ x 3/16″ steel
Caster Tires – 13″ x 6.5″- 6″ Flat-free semi-pneumatic
Cooling System –  Liquid-Cooled
Deck Design – 7-gauge 60″ or 72″ TURBO FORCE®
Discharge Chute – Rubber
Drive System – Hydraulic 16 cc Hydro-Gear tandem pumps
Drive Tires – 24″ x 12″-12″
Front Bumper – Reinforced bull-nose front bumper
Ground Speed – 11.2 mph forward , 6.3 mph reverse
Height of Cut – 1-1/2″ – 5″ in 1/4″ increments
Hydraulic Fluid – Premium synthetic
ROPS – Folding; standard
Seat – Elastomeric
Spindle Bearings – Greasable tapered roller bearings
Spindle Housing – 9″ diameter cast iron
Steering Controls – 1-5/8″ dia. levers; adjustable
Disclaimer – *The gross horsepower of this engine was laboratory rated by the engine manufacturer in accordance with SAE J1940. As configured to meet safety, emission, and operating requirements, the actual engine horsepower on this class of mower will be significantly lower.
(c) 2018 Sharpe's Lawn Equipment Equipment. All rights reserved. Your local Authorized Toro Dealer, Bob-Cat Mower Dealer, Stihl & Lebanon Dealer for Statesville NC. Login