34hp EFI Horizon 6000 Series 72″ Zero Turn Mower – 74947
RUN SMART WITH HORIZON TECHNOLOGY
Select 6000 Series 34hp EFI Professional Z Masters have Horizon Technology. This on board intelligence platform improves fuel efficiency & productivity as well as enhance performance in a wide range of mowing conditions.
---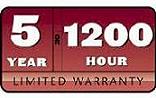 Model 74947 – 72″, 34hp EFI


w/Horizon™ Technology
34hp Kohler Command Pro EFI 999cc w/Horizon™ Technology Engine

72″ TURBO FORCE deck

Deluxe suspension seat features thick cushions, large bolsters and
3-D isolator mounts that absorb bumps and vibrations to reduce operator fatigue

The unitized pump and wheel motor uses proven commercial hydraulic components while liminating hoses and other potential leak points
---
Protect Your Engine
Horizon Technology monitors engine temperature and oil pressure. Also if the mower is not performing properly the operator will receive a visual warning & the mower will go into safe transport to reduce the risk of damage.
Three Position Rocker Switch
Let's you choose the performance mode to match the mowing conditions.
Offers up to 41% better fuel economy.
Extends clutch life by engaging & disengaging the clutch at lower RPM's
Max Mode – Maximum power for the most demanding conditions
Economy Mode – Excellent performance in normal conditions, reduces fuel consumption, emissions, noise & machine wear
Low Mode – Helps reduce deck packing and discharge clumping when mowing in wet conditions
---
The 6000 Series 72″ Z Master was designed for the pros and by the pros. These Toro Z Master mowers features unsurpassed hillside traction and handling and significant advancements in operator comfort. It's technology that refines the Z Master to make a great commercial mower even better. Buy the best from the best… get a TORO 74947 6000 Series 34hp EFI ZTR w/ Horizon Technology from Sharpe's Lawn Equipment in Statesville, NC.
---
Specifications 74947
Engine – 34HP* Kohler Command Pro EFI 999cc w/Horizon™ Technology Engine
Fuel Capacity – Gasoline – 12 gallons single-point fill
Adjustable Discharge Baffle – Standard, tools-free
Air Filter – Heavy-Duty Canister Air Cleaner
Blade Tip Speed – 18,500+ ft/min
Blade Type – 1/4″ thick heat-treated steel
Carrier Frame – 3″ x 1-1/2″ x 10 guage
Caster Tires – 13″ x 6.5″- 6″ flat-free semi-pneumatic
Deck Design – 7-gauge 72″ TURBO FORCE® w/bull-nose bumper
Discharge Chute – Rubber
Drive System – Hydraulic unitized pumps and wheel motors
Drive Tires – 24″ x 12″ – 12″
Ground Speed – 11.5 mph forward
Height of Cut – 1″ – 5.5″ in 1/4″ increments
Hour Meter – Standard
Hydraulic Fluid – Premium synthetic
ROPS – Folding; standard
Seat – Deluxe suspension
Spindle Bearings – Greasable ball bearings
Spindle Housing – Cast iron
Steering Controls – 1-5/8″ dia. levers; adjustable
Disclaimer
*The gross horsepower of this engine was laboratory rated at 3600 rpm by the engine manufacturer in accordance with SAE J1940 and SAE J2723. As configured to meet safety, emission, and operating requirements, the actual engine horsepower on this class of mower will be significantly lower.
(c) 2018 Sharpe's Lawn Equipment Equipment. All rights reserved. Your local Authorized Toro Dealer, Bob-Cat Mower Dealer, Stihl & Lebanon Dealer for Statesville NC. Login