STIHL MS 461 R Magnum Rescue Chain Saw with Depth Limiter

Buy with confidence from Sharpe's. Every STIHL Rescue Saw is set-up, serviced by Sharpe's Lawn Equipment and is ready for use when you leave our dealership in Statesville, NC.
NO SHIPPING!
STIHL prohibits it's dealers from shipping any equipment. All STIHL products are serviced, cranked & checked before you leave with it.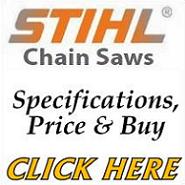 A proven professional chain saw redesigned exclusively for fire, rescue and emergency service work, the MS 461 R STIHL Magnum "Rescue" has what it takes….. just ask the Virginia Beach, Va. Fire Department who helped us design it. Lightweight and high powered even at mid-speed range, this chain saw can cut through even the toughest jobs using its specially designed saw chain in those urgent situations.
Sharpe's Lawn Equipment & Service along with STIHL, Inc. offers additional savings for non-profit organization that purchase STIHL power equipment. If your organization qualifies then you are entitled to a minimum of 10% off MSRP. Contact Sharpe's Lawn Equipment in Statesville, NC for more information on this and other programs offered by STIHL.
(c) 2018 Sharpe's Lawn Equipment Equipment. All rights reserved. Your local Authorized Toro Dealer, Bob-Cat Mower Dealer, Stihl & Lebanon Dealer for Statesville NC. Login