STIHL HT 56 C-E Pole Saw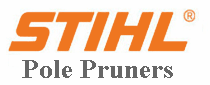 Pruning High Branches Made Easy

Cutting and trimming hard-to-reach branches can be a difficult chore if you don't have the right tool. The HT 56 C-E pole pruner from STIHL makes it easy.
Ideal for pruning jobs outside the range of regular chain saws, the HT 56 C-E makes short work of branches that are hard to reach from the ground. Powered by a low-emission, fuel-efficient STIHL HomeScaper Series engine, this new pole pruner can save on fuel costs and is easier on the environment.
The HT 56 C-E comes equipped with a durable STIHL bar and chain for optimal cutting performance, while the STIHL Easy2Start system makes starting almost effortless. And its unique two-piece shaft design makes for easy storage and transport.
The HT 56 C-E pole pruner is lightweight and well balanced and it's priced less than other STIHL pole pruner options making it the perfect addition to your home landscaping power equipment.
SHARPE'S…….your one stop lawn shop!
(c) 2018 Sharpe's Lawn Equipment Equipment. All rights reserved. Your local Authorized Toro Dealer, Bob-Cat Mower Dealer, Stihl & Lebanon Dealer for Statesville NC. Login