KM 111 R STIHL Multi-task KombiSystem
STIHL KM 111R KombiSystem offers great flexibility from home users to professional landscaping companies. Perfect for tasks such as hedge trimming, edging, pruning, cleaning & cultivating.
Made in America
NO SHIPPING!
STIHL prohibits it's dealers from shipping any equipment. All STIHL products are serviced, cranked & checked before you leave with it.
---
Tackle yard projects with ease with the KM 111 R KombiMotor. Part of the STIHL KombiSystem of multi-tasking tools, this model features a powerful, low-emission engine with a large fuel tank that provides 30% longer run times than the previous model. Professional landscapers looking for power and versatility will like the KM 111 R and its semi-automatic choke lever, one-touch stop, and improved air filter extending service life and replacement intervals. Plus, the KM 111 R is compatible with up to 14 interchangeable attachments, allowing you to operate and power up multiple tools with one KombiMotor while saving on fuel and maintenance.
The STIHL  KM 111 R KombiSystem is a versatile landscaping system that includes a powerful STIHL KombiMotor and a full line of attachments. Together, they give landscaping professionals the ability to tackle a tremendous range of outdoor tasks without loading the trailer with a pile of tools. Attachments include trimmers, blowers, hedge trimmers, edgers, pruners, cultivators and more. Each attachment slides into the KombiMotor effortlessly and is secured via a quick-release coupling system, saving you time as well as trailer space.
NOTE: STIHL KombiSystem attachments are sold separately.
---
Come get your STIHL KM 111 multi-task unit today. Add a pole pruner, string trimmer, edger, pole saw, cultivator or even a bed redefiner. One powerhead does it all. We are a full line STIHL dealer, SRR Elite dealer & have GOLD Level Master Wrench factory certified technicians on staff. Supplying STIHL Power Tools to Lake Norman, Mooresville, Salisbury, Clemmons, Winston-Salem, Elkin, Hickory, Taylorsville, Conover, Mocksville and Cornelius plus many more in North Carolina.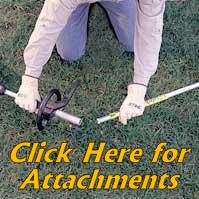 (c) 2018 Sharpe's Lawn Equipment Equipment. All rights reserved. Your local Authorized Toro Dealer, Bob-Cat Mower Dealer, Stihl & Lebanon Dealer for Statesville NC. Login