STIHL SR 430 Backpack Sprayer / Blower
This powerful, fuel-efficient, liquid-only SR 430 backpack sprayer is a great choice for large property applications. All STIHL equipment is set-up, serviced by Sharpe's Lawn Equipment and is ready for use when you leave our dealership in Statesville, NC.
Made in America
NO SHIPPING!
STIHL prohibits it's dealers from shipping any equipment. All STIHL products are serviced, cranked & checked before you leave with it.
---
Add more profit to your company…. offer monthly control of mosquitos!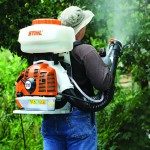 The SR 430 liquid-only backpack sprayer uses a gasoline-powered engine to help you cover large areas faster. It delivers an impressive spraying range and features a pressure pump that helps deliver even application no matter the spray angle. The sprayer is also comfortable to wear, thanks to its anti-vibration system, soft rubber grips and optional chest and hip belt accessory for even weight distribution. If you're a farmer, forester or pest controller, come by our Dealership and try the SR 430 in person.
---
Purchase your STIHL SR 430 Backpack Sprayer Blower from Sharpe's Lawn Equipment in Statesville. Come see it before you buy. Sharpe's Lawn Equipment serves Mocksville, Mooresville, Lake Norman, Salisbury, Winston-Salem, Elkin, Wilkesboro, Taylorsville, Hickory, Catawba, North Charlotte & many more.
(c) 2018 Sharpe's Lawn Equipment Equipment. All rights reserved. Your local Authorized Toro Dealer, Bob-Cat Mower Dealer, Stihl & Lebanon Dealer for Statesville NC. Login